13 km in Freemont California
A run through the bay area marsh lands and past a waste dump.
Download
Length:
13 km
Elevation:
14 m
Route type:
Loop
Pavement:
Road / Gravel
How to get there:
This is a run if you are staying in any of the hotels close to the "Stevenson Blvd" exit of Interstate 880 in Fremont. Public transport may be available, but there is also plenty of free parking at the hotels.
How to shorten/extend run:
Shorten: If you skip the best part of the run, the 5 km through the marsh, and turn around at kilometer 6, the overall run will be closer to 7 km.
Extent: The only way to extend the run is add a few more loops through Fremon.
Water stops:
There is no good way to get water on this run.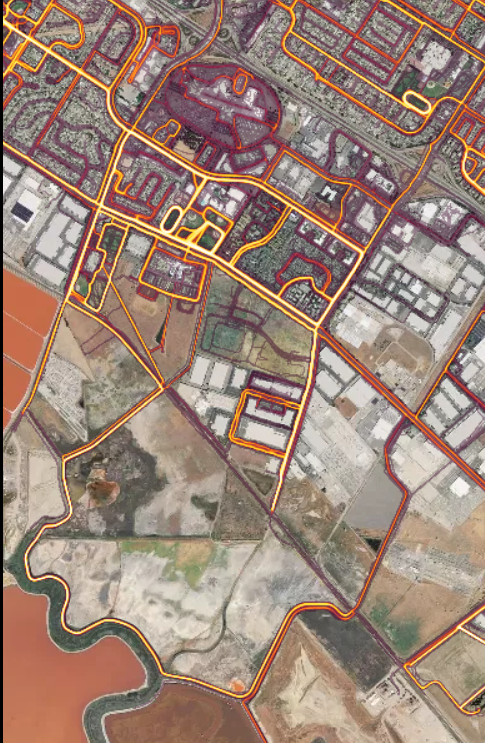 I have wanted to do a run like this for a while, but could never figure out how to get into the marsh lands. Today I discovered a path through the marsh that is apparently taken by quite a few runners. I was browsing the Strava Global Heat Map to find a nice running route, when I noticed a path through the marsh lands in the south of Fremont. (I briefly talked about the Strava Global Heat Map in this post.) You can see the path in the picture to the right, with higher trafficked ares shown in a brighter yellow.
I was not quite sure what to expect, but headed there in the early morning hours, just after first light. It turns out that the path is not quite "open to the public", but technically the gate I ran around was just there to keep cars out, so running the path may be OK. However, everyone should decide for themselves if they want to attempt the run.
The 5 km part of the run that goes through the marsh is mostly on gravel, while the rest of the run is on normal roads. There is plenty of wildlife to be seen in the marsh, especially in the early morning hours when I did the run.
Photos